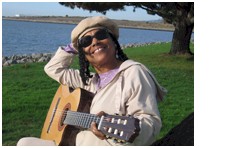 Carolyn Plummer AYANA, a prolific composer, poetess, playwright, musician, and provocative performer displays her musical trend-setting talents on her first CD ("Sunlight of My People") producing a magical blend of jazz, hip hop, soul and latin funk performed by an unusual combination of several acclaimed jazz artists joining with her folk-style jazz singing to interpret a dazzling array of distinctive songs packed with mind-bending poetic, powerful and spirit uplifting messages.

AYANA, a contemporary minstrelist, is one of a hand-full of active musicians who have collaborated with a celebrated list of musical legends who defined the course of popular and jazz music. Her music reflects a synthesis of the styles of these music giants. A musician's musician she has been placed on par with Thelonious Monk by the great jazz music producer, Orrin Keepnews who was a close friend of Monk and produced his music.

AYANA has worked closely with the following group of outstanding artists: Miles Davis, Cannonball and Nat Adderley, Les McCann, Nina Simone, Charlie Byrd, Eddie Harris, Esther Phillips, Wes Montgomery, Bill Withers, Quincy Jones, Donny Hathaway, Roberta Flack, Stevie Wonder, Aretha Franklin, Freddie Hubbard, George Benson, T.S. Monk, Bernard Purdie, Phil Upchurch, Buddy Williams, Lenny White, Victor Gaskins, Walter Booker, Onaje Allen Gumbs, Earl McIntyre, Don Grolnick, Joe Zawinul, John Handy, Taj Mahal, Peaches and Herb, and Roy Ayers.

AYANA composed the lyrics to the Joe Zawinul song, " In A Silent Way", made famous by Miles Davis and sung by Nat Adderley. She co-wrote with Wes Montgomery the songs, "Angel" and "Road Song". She wrote the song, "Mister Spain", which was arranged by Quincy Jones for Aretha Franklin. Esther Phillips sang another of her compositions, "I've Only Known A Stranger" recorded by CTI Records. The first person to record her music was Charlie Byrd for Columbia Records. The first track on this CD, "Sunlight of My People", features an intimate collaboration co-written by AYANA and Stevie Wonder, their refreshing and inspiring song, "Thinkin' It Over".

AYANA left the active musical scene in the 1980's. She moved from the east coast to Oakland, California where she used her prodigious musical talents to transform the musical training of the children of the Bay Area school systems and became an extremely popular person in the process.
© 2006 Carolyn Plummer AYANA. Esteem Records, Ayana Productions LLC. All rights reserved.